Perennials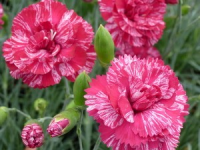 Perennial is a term that describes what many gardeners strive for, a plant that comes back! Perennials range from low growing plants to taller varieties and produce vibrant flowers in just about every colour. Some varieties of perennial have beautiful foliage and seed heads.

The perennial garden can contain plants that flower, plants with striking leaves and foliage and even ground cover. Most importantly, there are lots of Seaview perennials to choose from each season and as fashion in the garden changes!
From the old fashioned to the unusual, we have over one hundred varieties growing at any one time. Our testament to produce plants with integrity comes from our Nursery Manager and the team that he leads with the philosophy that a plant should grow without the need for enhancements that might alter it's characteristics at the Garden Centre, and, more importantly once it is planted in the home garden.
Photo Gallery
Back...